Last Thursday afternoon I finally got promoted from Deer Monitor to Deer Killer after calling this young 6-pointer in and dispatching him with my longbow. My dad had seen this buck in the same spot when I was hunting with him a couple of weeks ago. There is a huge thicket between our graveyard and our middle field and the deer use it as a main travel corridor. Dad always clears a road out in the middle of it to make their traveling easier and I set up on the road edge occasionally. This time I was in a hickory tree up on a little knob that looks down on the road just before it goes into the field. The buck had the brush horned up all around the mouth of the road so I knew he was using the area regularly.
About 4:30 pm I saw a doe out in the field and I bleated and grunted to her. She walked a couple of steps and then stopped. There was some brush between us and I couldn't see her so I just waited for her to come out one side or the other. Suddenly I heard some noise in the brush right next to the field edge and I couldn't for the life of me figure out how that doe had gotten there without me seeing her. Well, it wasn't her, it was the 6-pointer coming in to see who was in his territory. I let him get broadside at about 18 yards before sending an arrow his way. It was the first deer this season that I had gotten to draw on. The shot was good and I was soon loading him in the back of my truck. He is only the second deer I've killed with a bow during an afternoon sit. All my other deer have been morning kills.
I saw a bunch of deer Friday but only bucks came into bow range. I saw three shooters in 30 minutes! That was okay. I would come back to the same spot Saturday morning with my 50 caliber flintlock and a whole new set of rules to play by. I was hunting on the ridge behind our barn. There is a big oak flat up there that the deer and turkey just love to dine on. I would be there too but with a different menu in mind.
Saturday morning started out a little slow; I think mainly due to the bright moon that shone all night long. Around 8:00 I saw a young 8-pointer come out of the holler to the northwest of me and start doing deer stuff. He was about 50 yards away so I bleated and grunted to him to close the distance. All that did was call his fork-horned buddy out of the holler and they started feeding away from me towards our northern neighbor's place. At one time I had a good broadside shot on the 8-pointer but I decided to pass. It was only about 50 yards but I couldn't be sure there wasn't some unseen obstacle between me and him. I was shooting iron sights so I wanted to be sure I had a good shot. The day was early so I figured I had more opportunities in store for me.
And it turned out, I did. About 10 minutes went by and the 8-pointer decided to come back. He apparently remembered he had an appointment to keep because he was walking at a pretty steady pace on a vector that would take him by me on the left at about 25 yards. With a loud CLICK, I cocked the hammer back on my flintlock and tried to position myself for the shot. I am left handed and animals on that side are the bane of my hunting career. There's only so much turning you can do in a climbing stand so I tried to stop him with some doe bleats by mouth. Finally, he acknowledged my presence and slowed down enough for me to shoot. I lined up the sights, picked a spot behind his shoulder and pulled the trigger. Through the cloud of blue smoke I could see him hump up and then run down into the holler. Fortunately, he piled up before he made it too far and I had one more buck for the freezer. I used 75 grains of FFg powder and a .490" diameter PRB.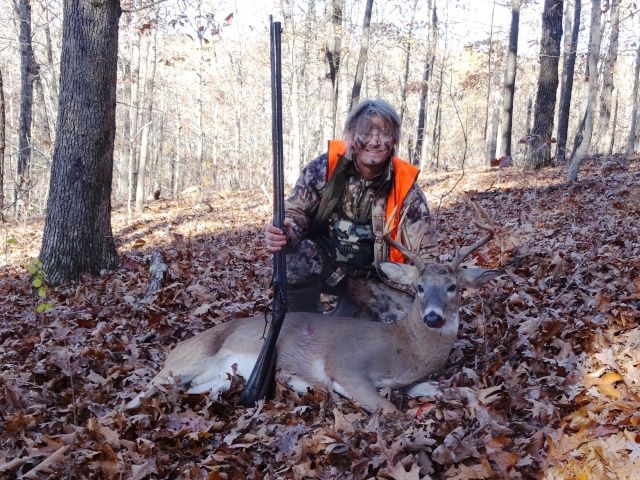 Anyone who thinks that hunting is all about killing has obviously never had the pleasure of dragging 150 pounds of dead weight uphill for a couple hundred yards while trying to stand up in calf-high leaves that are as slick as goose grease. The killing takes seconds, the rest is all work. A 4-point safety harness also doubles as an excellent dragging harness!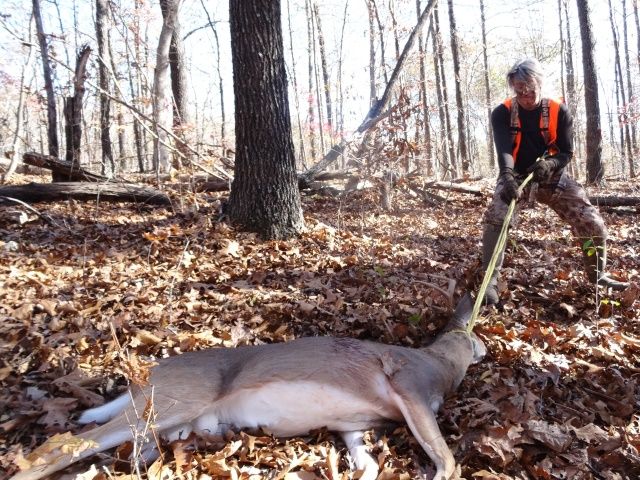 Overall, we didn't hurt the deer population too badly at the Haverstick Game Preserve and Day Spa but we did manage to fill the meat pole. I really wanted to kill a couple of does but Fate provided me with bucks so that's what I killed. They were both young deer so they should still be fine table fare. I will spend the rest of the week deboning the meat and putting it up. Sausage making will commence over Christmas break. Life is good!
Darren