It'll post in the Members Tip section, so this is where I'll put it till the site is fixed....
Sitting in the stand the other night, it's been a while since I was out hunting but I had....well here take a look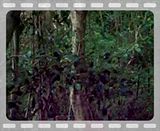 Although nothing presented a shot for more than 1 1/2 seconds at a time, it was good to see them. the wind swirled and blew the scent of a rider and horse to them from a mere 30 yds from the trail.
I love to see how much I can get away with,