Hello All,
I've got a problem that, hopefully, someone here can help guide me through to a solution...
I have recently started building a new 3-piece take-down recurve for the upcoming season ahead. As such, I think that I will post this as a build-along so that others may learn from my mistakes.
So, to begin with, I went to a local sawmill and bought a hunk of hard-maple. It was a 9/4 (a tad over 2 1/4" thick) block 7" wide and 70" long. From that block, I cut about 38" off for laminations. Then I cut another 20" block which was then split in half to make two risers and the final section was reserved for wedges. Then I cut out 8" slats, roughly 1/8" thick, using my table-saw.
Then I spent, what seemed like an eternity, grinding them down to approximately .065" at which point I ordered my black glass. On a whim, which was probably a good thing actually, I ordered some uni-weft glass too. My reasoning was because as I was grinding, I noticed that more and more the lams started bowing into a u-shape as I was grinding them down. That started a voice in the back of my mind that there was certainly going to be limb-twist to deal with. I was hoping that the uni-weft would help alleviate that...
So, ultimately, I ended up with 2-lams at .065" and two at .064" plus .030" black glass on front and back with .030" uni-weft. Combined with a 9" wedge and a 16" riser, I'm hoping to get a bow capable of hunting weight (~40#/55#). The other four lams will be used for another bow at a later date.
Ok, so then I glued the limb all up (no pics to show), let it cook @ 160-degrees for 6-hours and cool off before taking it off of the form. That was when I was able to take a closer look at the limb and was rather surprised with what I saw...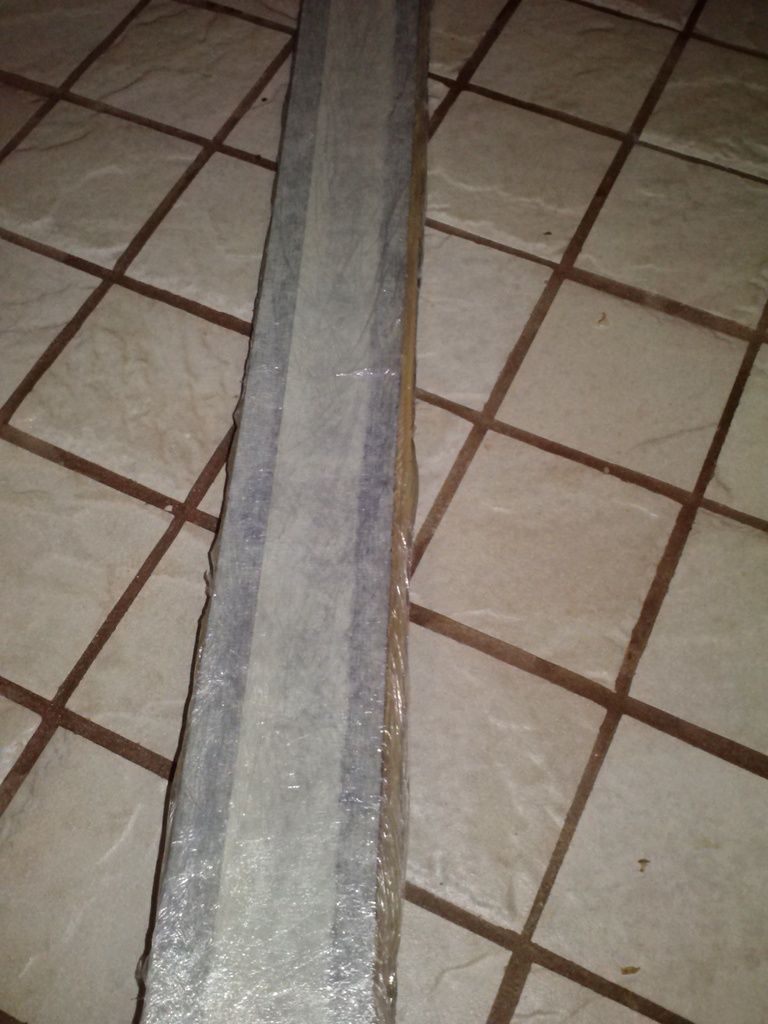 I know that the image quality isn't the greatest, but just know that the entire right side is not "just" glue! That's right, somehow even after taping to the form, the whole thing slid to the left about an 1/8" or so. Here's a better image as shown from the end...
First off, I'm not sure what happened. How does this happen? I paid special attention to fill the hose slowly - adjust the lams, fill it some more - adjust the lams some more and final fill-up before a final adjustment. Yet, at some point during the cooking process, it slid again. My guage showed 60psi...
Secondly, how do I fix it? My idea is to take my calipers to the sides to find and mark exact-center. Then take limb width from 2" (I ground the lams to black-glass width before glue-up) to maximum width capable of squaring up the sides. At this point, I will begin the limb shaping process. Of course, that means that no-matter what happens with the second limb (still in the oven), I will have to at least, at a minimum, grind it down to the same width before continuing.
Does this sound like a plan or should I consider something else?