Hello All!
Well, I guess I'll let you all know what I've been working on these last few weeks...
BACK-STORY
We had replaced our old heavy wooden front door since the window panel kept falling out when opening/closing it. Ah, the miracles of children. They can break anything... Here's a representative example of our old front door...

See the glass? It kept falling out and during one storm, it fell out and scared the entire household nearly to death. Hence, it was time to change the door...
Anyway, I took the old door out back and busted it up for the fire pit. When busting it up, the section beside the hinges just would not break so I decided to hold onto it until I decided what to do with it. Being somewhat superstitious, I felt if it wasn't gonna break, then there was a reason why...
My step-daughter "Bert" (Brittany) soon gave me the reason...
With deer season rapidly approaching, I've been planning on getting things setup for the new year of hunting. Those plans include tuning my existing bow "Pheobe" as a back-up and getting things ready for another attempt at a "Dark Angel" build as my new year's equipment. My previous attempt at a "Dark Angel" was a complete failure; one that I am not willing to discuss at this time due to the pain I've endured during that "learning" process.
As for "Pheobe", I only have this one pic worth showing and it shows her sister "Melanie" at her side. I got their names by researching ancient names based on their light and dark risers. Turns out "Pheobe" means light ("bright and shining") and "Melanie" is ("dark, blackness") in ancient Greek. Anyways, here's their pic: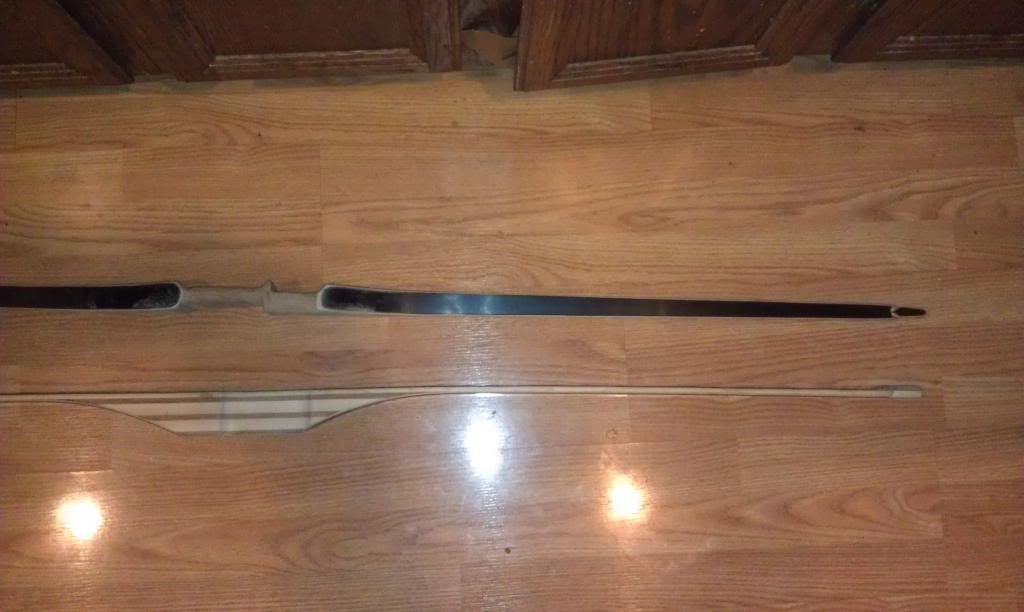 Alas, "Melanie" is no longer with me. She was made specifically for a friend at work and so she is with him now...
Back to the story at hand:
While getting things ready, Bert had asked if she could go to the archery range with me to shoot too. I said "sure, can you shoot Pheobe?" and she tried her hardest to pull her back and didn't get nowhere. Disappointed, she went on her way, understanding that she can't shoot my bows. A short while later, I was in the shed getting a screwdriver when I tripped over the old piece of door that wouldn't break.
Long story short, I suggested to Bert the idea of using that block of wood to hopefully make her a bow that plucks arrows for her. She and I spent the next several days trying to cut slats and grind them down to usable lams. Meanwhile, I was trying to derive suitable specs for her. I determined that she has about a 26" draw length and can't pull "Pheobe" (which is 52@28) more than 22" back placing her in the 35# range. So, I'm looking to make a bow that is no heavier than 35# at 26" draw length. Unfortunately, this is not a hunting bow, but at least she can go to the range with me (assuming it turns out). Since she helped me make her bow's lams, she felt it was only right that she got to name the bow. She came up with the name "Dusty" because of all of the dust created while grinding the lams.
Ok, so since this block of wood wasn't long enough to make a longbow or recurve, I decided to make a 3-piece take-down. Doing what I hope is due diligence, I determined that a 35# take-down bow would need no more than .204 stack-height using Bingham's bow weight chart. Unfortunately, I got tired of grinding beyond the .075 mark. Coupled with .050 black glass and .030 bow-tuff glass; that gives a stack height of .210 which is higher than the .204 required. Furthermore, all 4-lams are parallel, meaning that not only am I over sized stack-wise but since the lams are parallel, I'm assuming the finished weight will also be affected. So to alleviate these issues, my original intent was to make a large riser (18") with 18-degree pads. Also, Bingham's chart says to use 8 1/4" wedges. I chose a shorter wedge hoping to reduce some of the bow weight without to much risk.
As this entire process is a learning event for me, I've decided to do the bulk of the work before posting anything on the build because I wanted to make sure everything was working as planned. Well, today, I installed a loose string and got some preliminary tiller measurements that turned out rather well. I had feared this was another failed project because I have made *several* mistakes through out this build. Since the signs look promising, I am now posting to keep you all updated and to hopefully have you folks provide some sensible solutions to some of the problems that I am having...
ON TO THE BUILD
Ok, so as I stated, the lams are parallel lams at .075" with black glass (.050") on the back and bow-tuff glass (.030) inside. I had considered putting black glass (.050") on the belly (instead of bow-tuff inside) but I wanted to show the wood's grain as it is a beauty to me. Black glass would have hidden the grain (or texture is probably a better word) and put our stack height even farther off than what we already were. Unfortunately, due to finances, clear glass was out of the question since I had to use what was already on hand and I really didn't know how the wood would respond...
Look at this texture. Isn't it a beaut?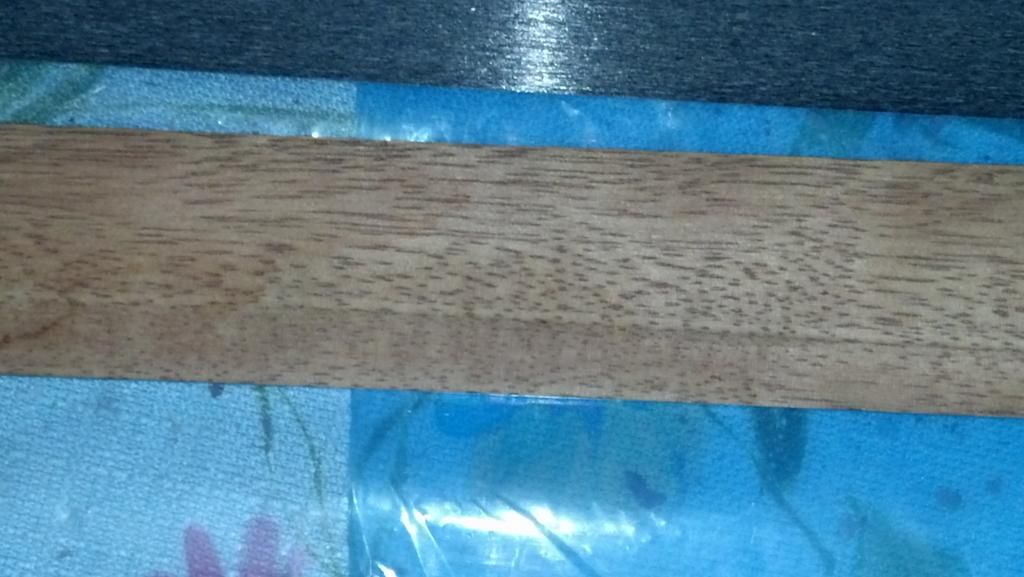 SO, here are the limb lams / glass all laid out.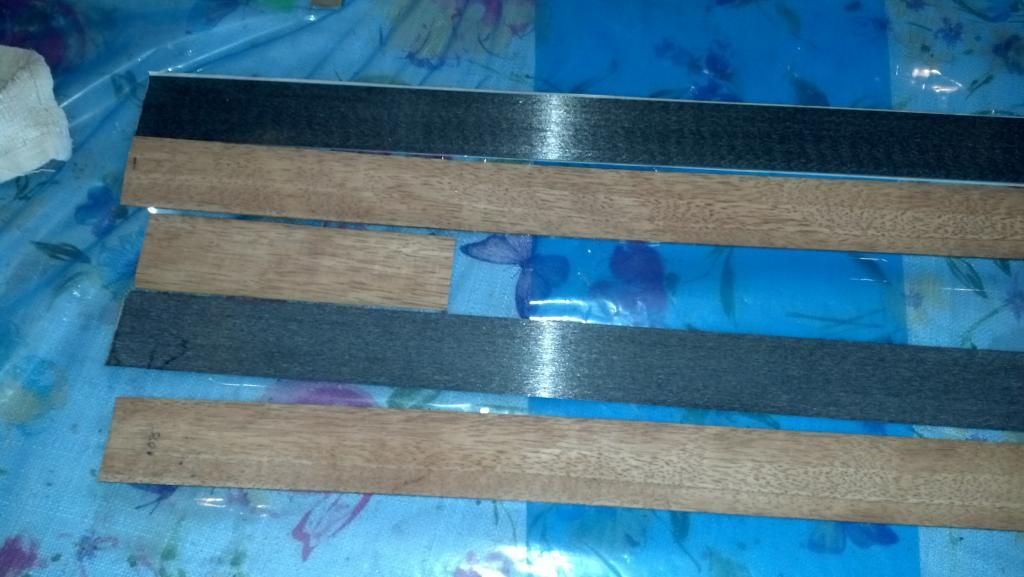 AND here is how I hope it will look when I'm done.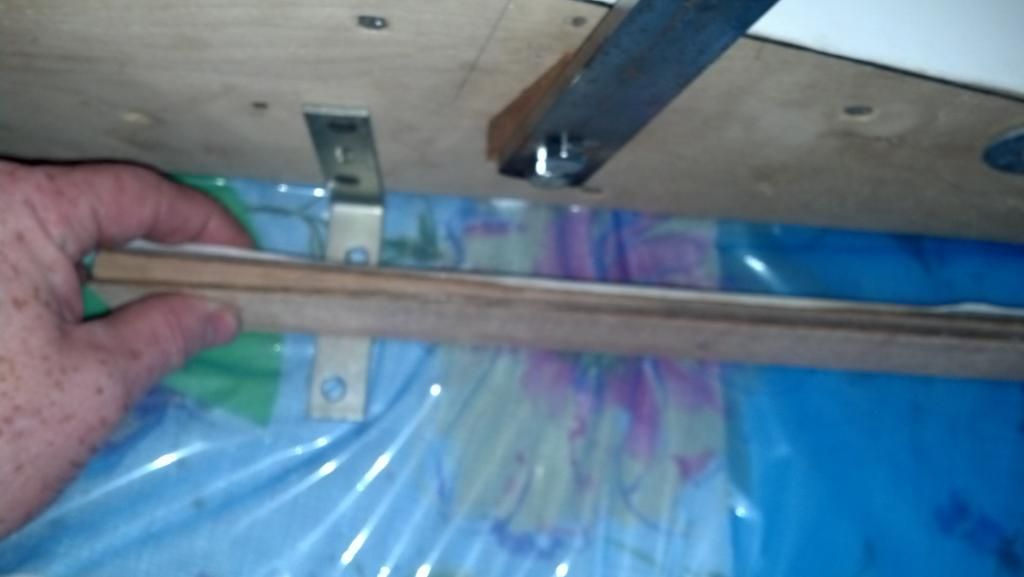 ONLY had one glove to work with.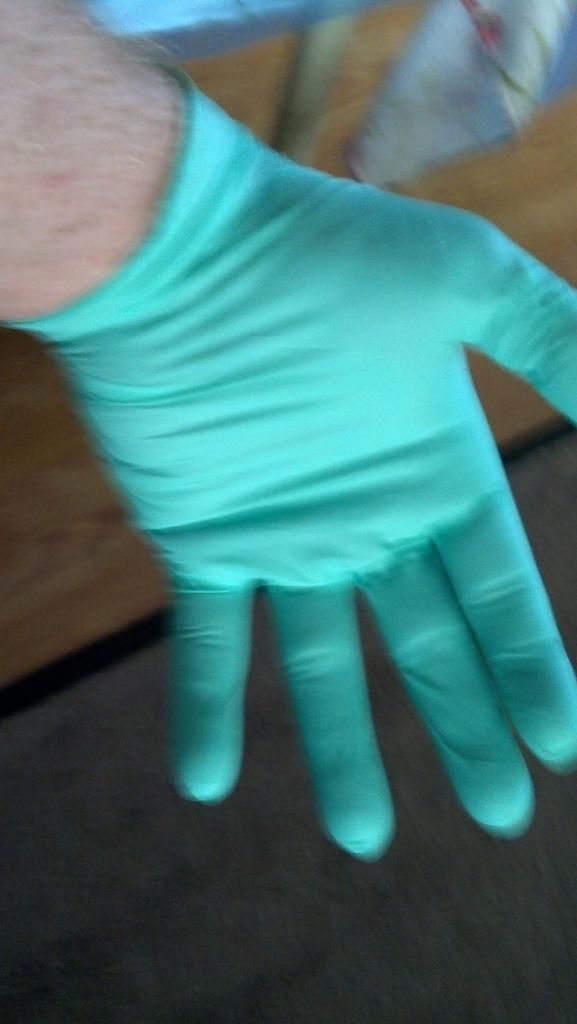 I didn't get any pictures of the dry run but rest assured, I checked BOTH limbs in a dry run before any glue was used.
HERE's the first limb in the oven. I had to modify the oven to fit the hose.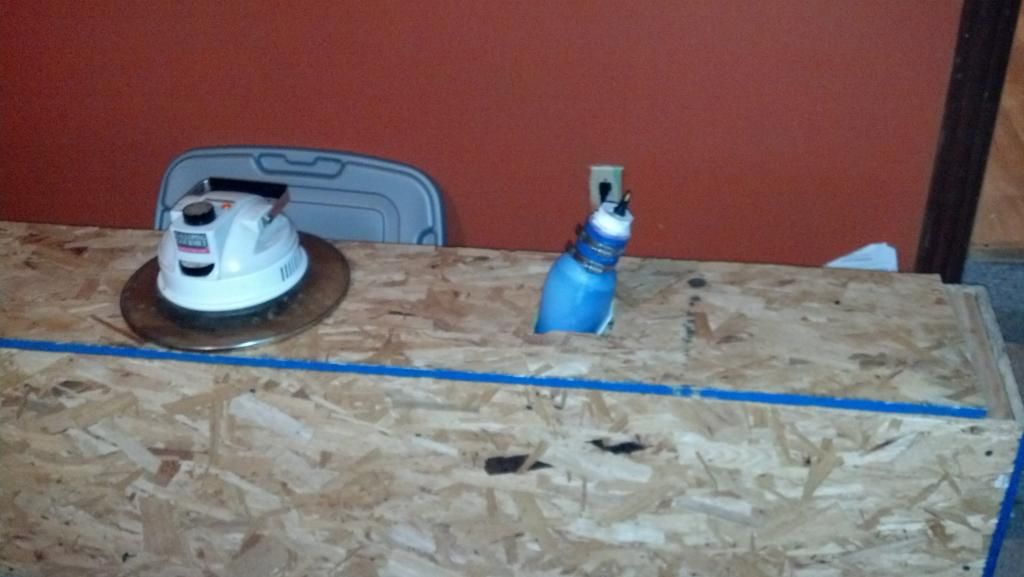 MISTAKE #1: Unfortunately, I now understand swededisiple's (?) hesitance in using that hose of his. After only about an hour, this hose went flat. Turns out there is a small hole near the plug of the other end of the hose. Since the glue was already drying, had been cooking for an hour, I recovered by taking the top part of the form off and wrapping box tape all the way down the form. Since I was worried about catastrophic failure at this point, I didn't think to get an illustrative picture.
Well, after cooking, I took the limb out. It looks fine to me so I figured to go for it. After all, I was only able to get 4-lams out of the door piece so it's either sink or swim now... And this is the first reason why I decided to wait before sharing my experiences...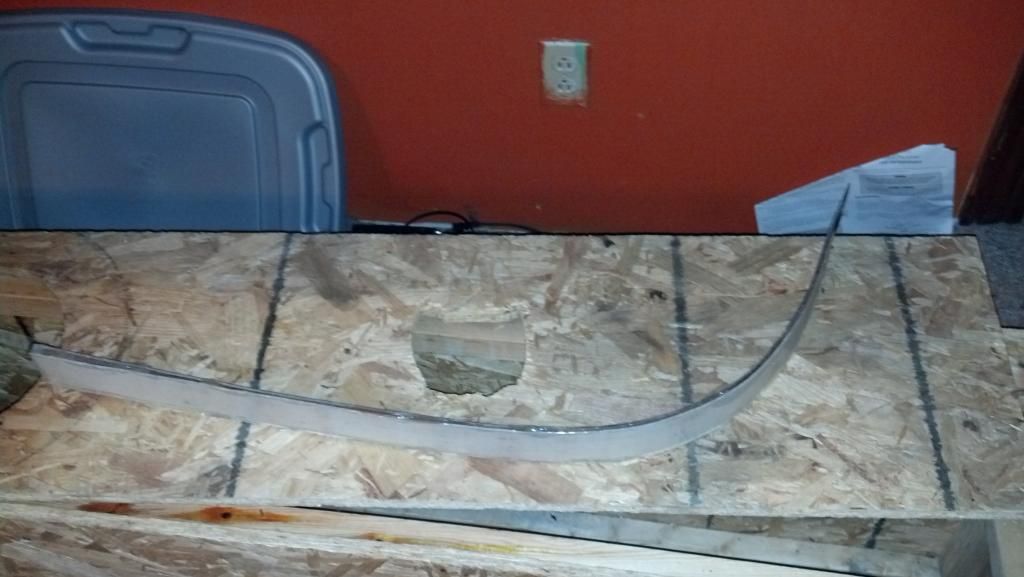 DURING the second limb build, I didn't even bother to try the hose. Instead, I just simply wrapped it with the tape the same as I did with the emergency recovery of the first limb. All in all, it looks like it was ok. Here are both limbs with the ends initially trimmed down and the riser block. The initial trim pieces were intended to be tip reinforcement pieces but as you'll see later, it just wouldn't be...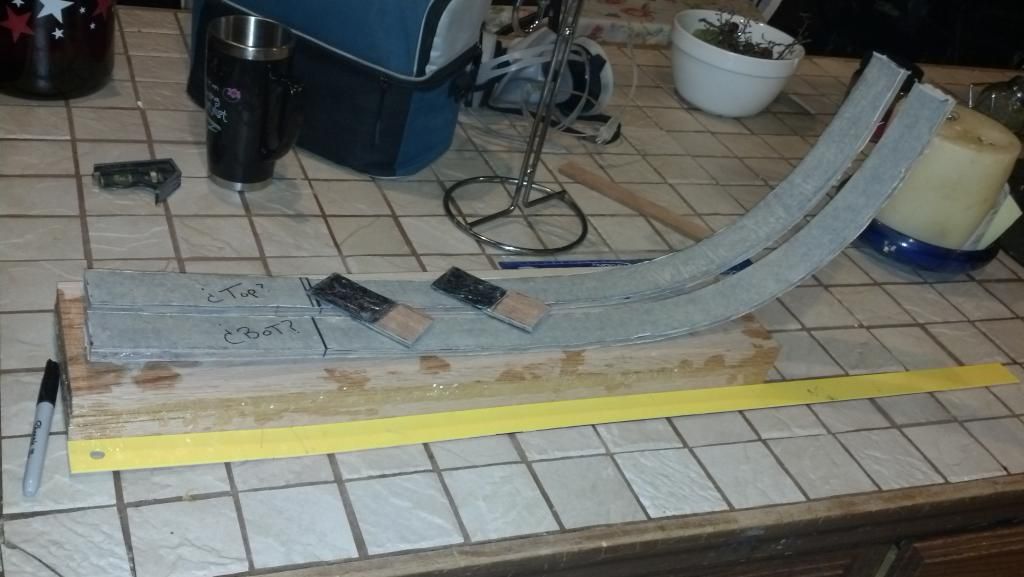 UPON closer inspection, I could see obvious differences between the limbs. See the preliminary Top/Bottom designations on the pic above? This was because the first limb was several thousandths of an inch thinner than the second. I attributed these differences to the fact that limb one had air-pressure binding the lams together whereas limb two had no such assistance and expected radically different bends... . This picture clearly shows the differences. Can you see them? As it happens, this was another reason for my waiting to share...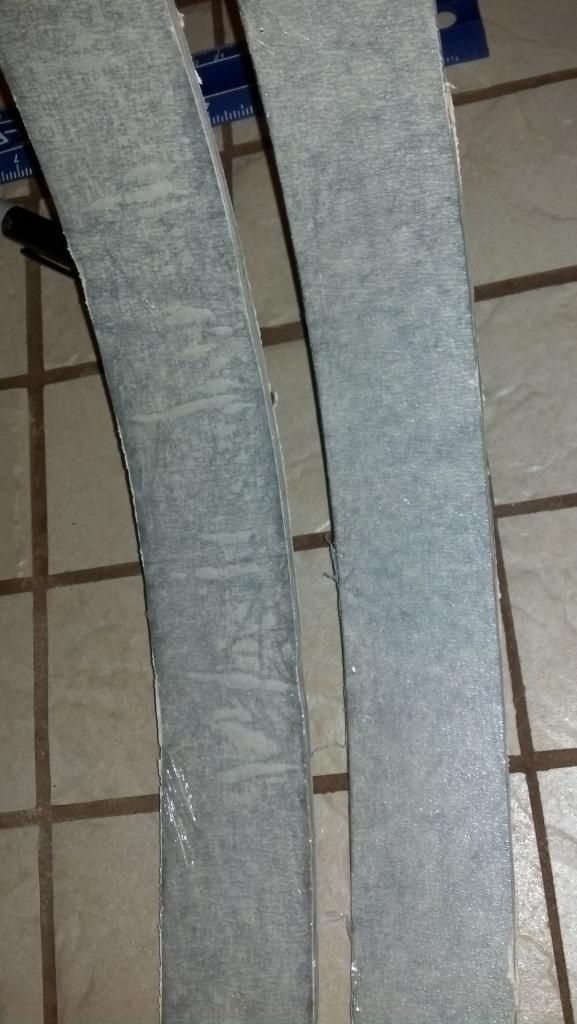 MISTAKE #2: After cutting the riser block for 18-degree limb pads, I proceeded to drill the bolt / pin holes. I took LOTS of time drilling in a practice board to make sure I got the right size bits for the various parts. Although you can't see it with this pic, I used the WRONG size bit when drilling the bolt holes. Furthermore, even though during all of the practice runs, the jig I made worked like a charm; when it came to the real deal, NONE of the holes lined up...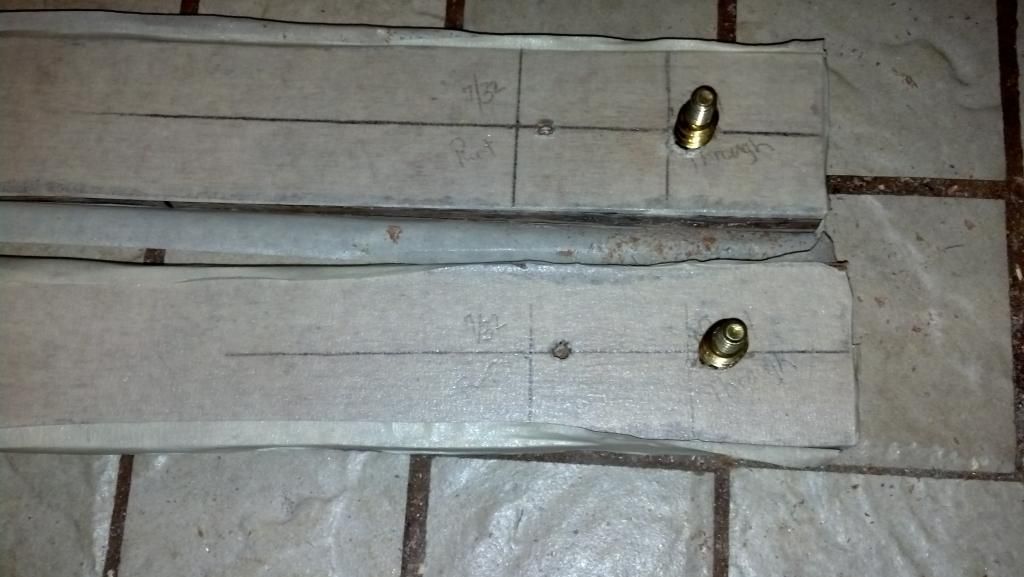 AFTER realizing this mistake, I figured the way to fix it is by bolting the limbs onto the riser and at least making sure that the limbs are square and centered on the riser correctly. Then once I was sure that they were, I drill new pin-holes straight through the limbs and into the riser. While doing so, I intentionally drilled them at different spacings to make somewhat of a guarantee that they will always line up and not accidently put on the wrong pads. I know I could just shape them differently, but at this point, I was really getting discouraged and "didn't care"...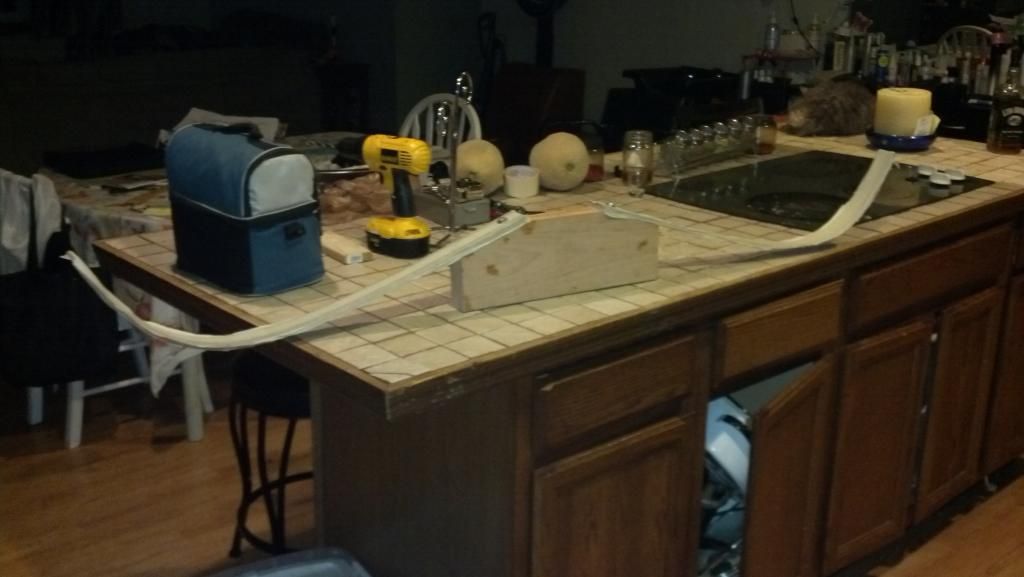 WITH the limbs bolted on, I was able to begin shaping them. Taking the limbs back off, and changing the tapes, I marked the center of the limbs down the entire length of the limb. I also marked the limb at the end of the fade (wedge). I then marked, on the tip end, a tick 3/8" on both sides of center. This will give a 3/4" tip. I then drew a line from the wedge line to each tip and sanded the limbs down to those lines. To take the bulk of the meat off of the limb, I used my 4" disk sander but for the finer details I used the belt sander (very lightly). This picture shows the rough trimming (after using the disk sander).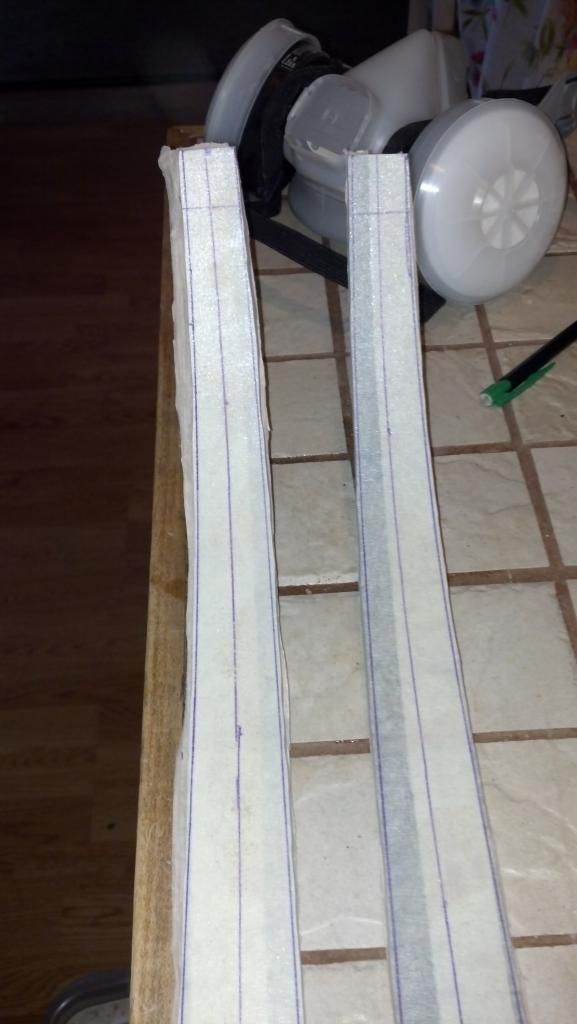 See, Greywolf? I used a respirator mask do-hickey too.
NOW it's time to check what I have been afraid of checking this whole time. Tiller...
I reattached the limbs. Stuck a 16" 2x4 board between a loose string and the riser to get a general idea of tiller. Now, since this is using a loose string I know it isn't all telling, but at least I get an idea as to whether or not it will bend good (or nearly the same). My intent was to get about 6" to 8" of pull on the limbs to see if they bend properly. It looks like about 6" and it looks good to me.
These pics show the tiller at the recurve bend (tip end) of the limbs.
This one looks to be about 9 1/8" mark on the ruler.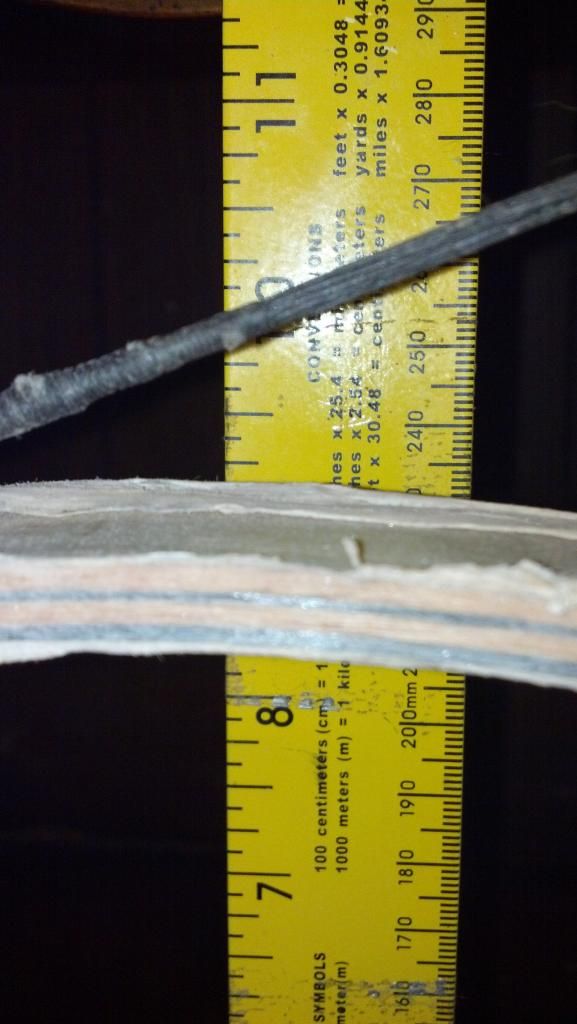 This one looks to be about half-way between 9 1/8" and 9 1/4" so call it 9 3/16"? That gives a 1/16" difference with about 6" of pull on the limbs.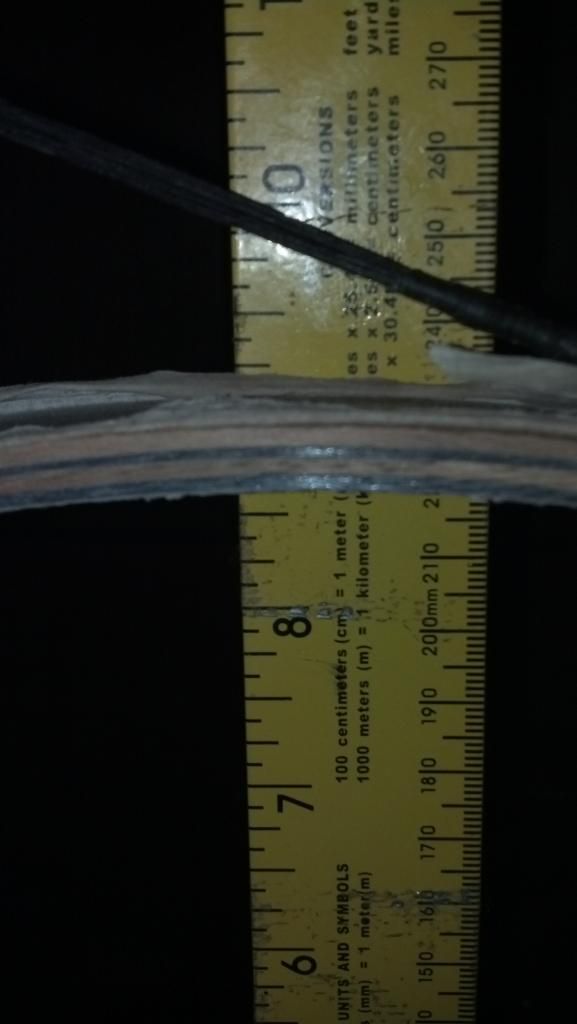 While this 1/16" difference at 6" pull on the limbs is a bit disconcerting, I figure a little bit of sanding could alleviate that difference fairly easily. Furthermore, I had Bert pull back on the string slowly while I observed the bend of the limbs. To my eye, there wasn't much (if any) difference in bend. Another cue that this *may* just work out after all. Remember, I'm looking to make Bert a bow to take to the range with us; nothing more!
AND finally, here's the tiller measurements at the end of the riser blocks. Again, in my opinion, not much difference that can't be corrected...
This one is crosses at the 16 1/2" mark...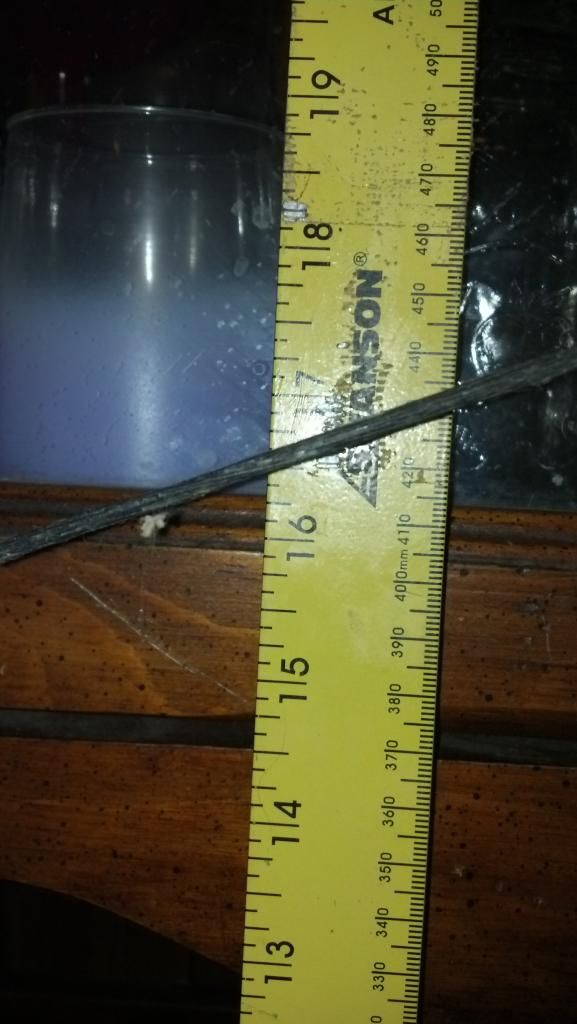 while this one is a smidge below that...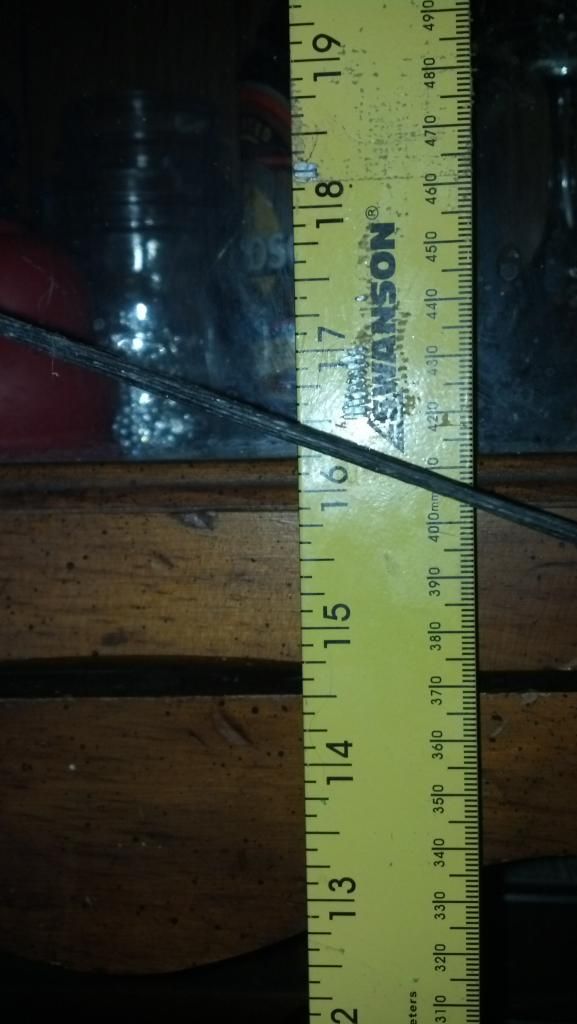 FEELING good about the odds of success, I cut the original riser block (which was 16" x 1 3/4" x 5 1/2") into about half its size. Turns out, I can probably get 2 risers out of it. By the way, for the riser, I took a 1" x 6" x 48" oak board from Menard's and cut it in half (1" x 6" x 24"). Glued those together with a 1/4" x 6" x 24" oak board in-between.
This picture shows the 2" x 4" used to test the tiller with as well as the rough dimension'd riser block... See the extra holes in the limb pads? Yeah, ugly aren't they? Got to figure out a way to cover that up...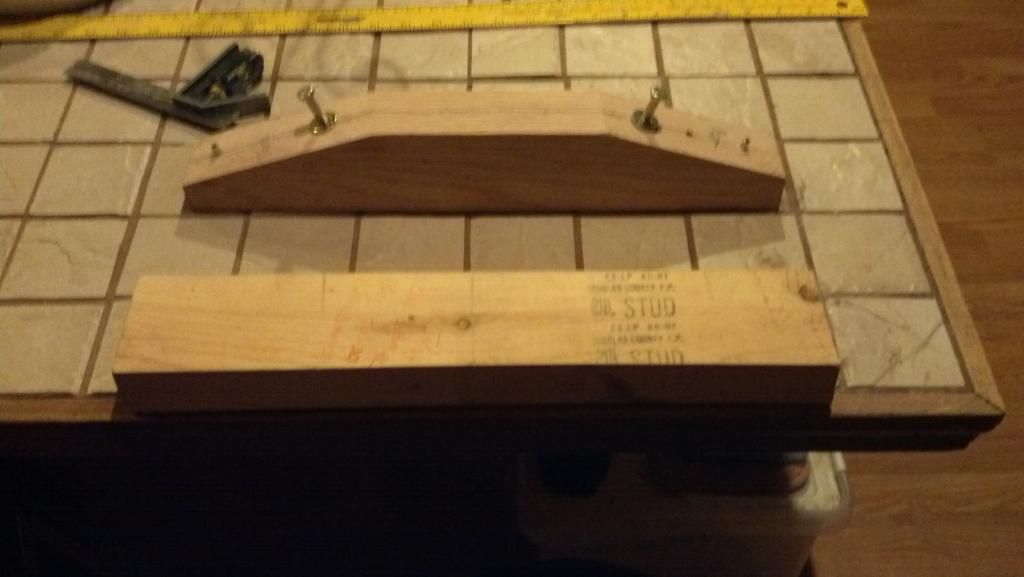 AS I was trimming the limbs to length, I have no idea yet what length the bow will be (54" - 58" as best guess right now), I kept the pieces so I could try to use them as tip reinforcements. My original trimmings didn't fit the curve of the tip of the limb an isn't (as Greywolf would say) "Light-tight". Even though I'm concerned about the success of the build, I have again gained a sense of "caring" about the results. Therefore, I want to minimize the glue lines as much as possible. Turns out, there was one piece that was "Light-tight" to both limbs (yeah...) and that's the one that is cut in half...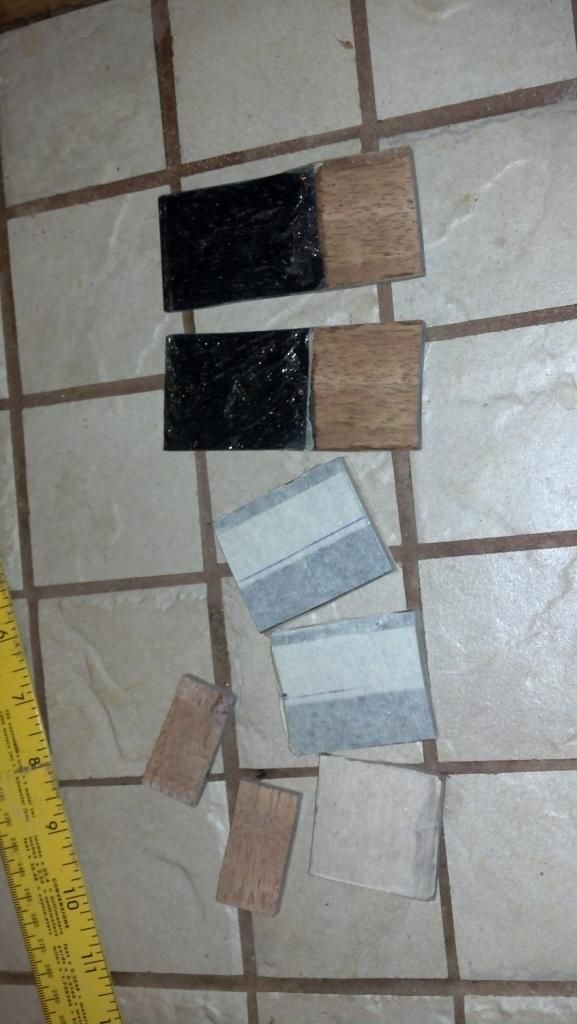 PREPARING for the tip reinforcements, I then sanded both pieces of the tip reinforcements and the tip ends of the limbs themselves. Before sanding the limbs, I placed some tape just below where the reinforcements are going to be. This was to help keep me from sanding too much of the tip while gaining a secondary benefit in keeping the glue from smearing to far down the limb itself. I ended with cleaning all soon-to-be-glued parts with denatured alcohol...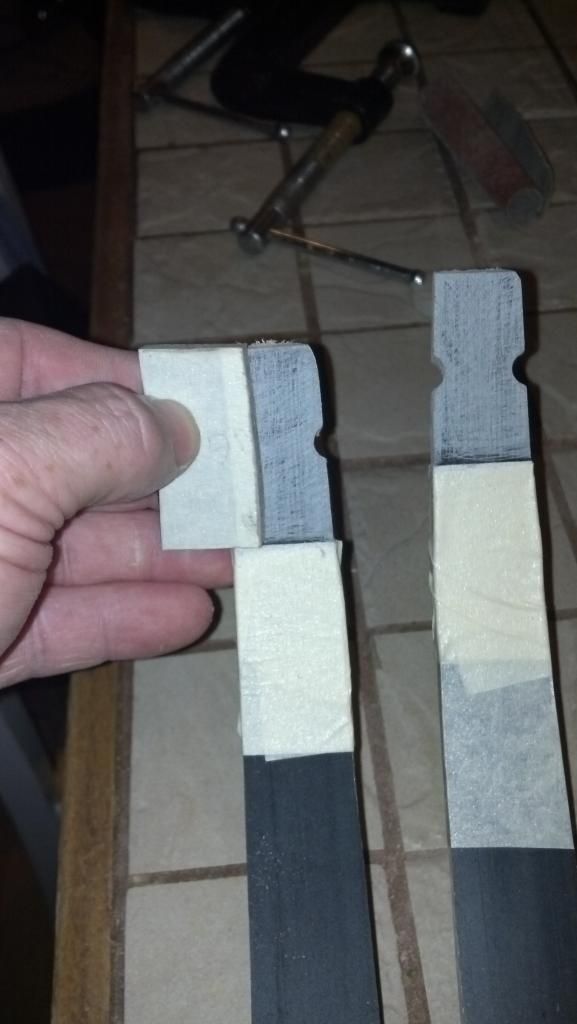 HERE are the two tip reinforcements as they are placed into the oven...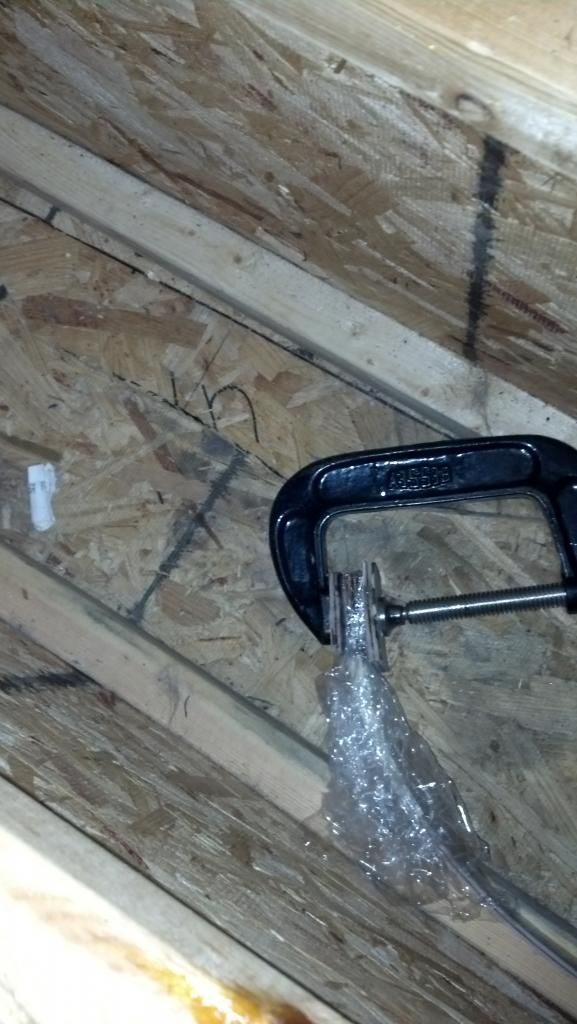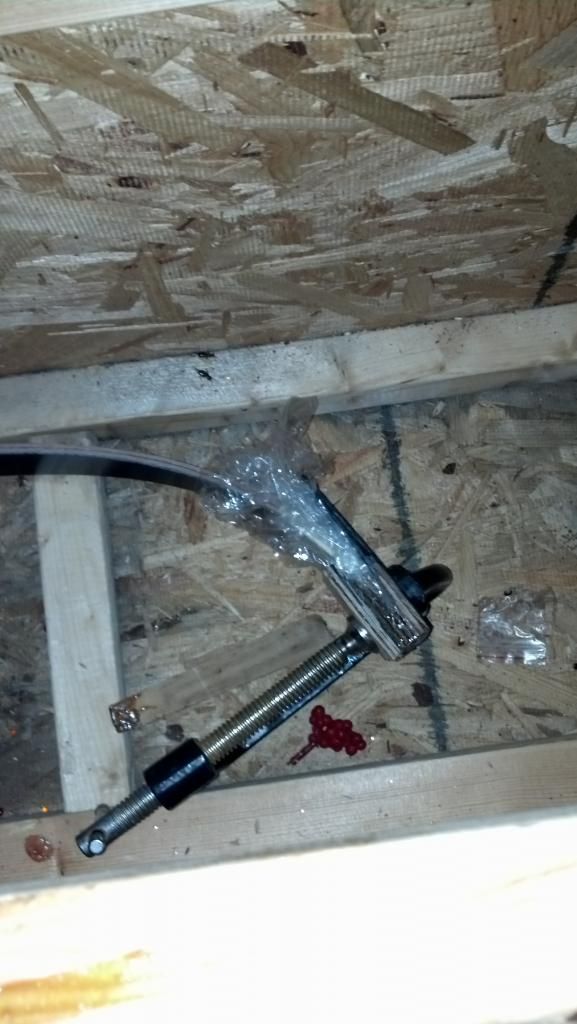 SMOOTH-ON was used for the tip reinforcements because I don't have any other type of glue to use (not even super-glue)...
As such, I want to cure them but not at the same temps as was used to glue the limbs together for fear of delamination. This time, the oven is kept at a constant 160-degrees (vs the 190-degrees of the limbs).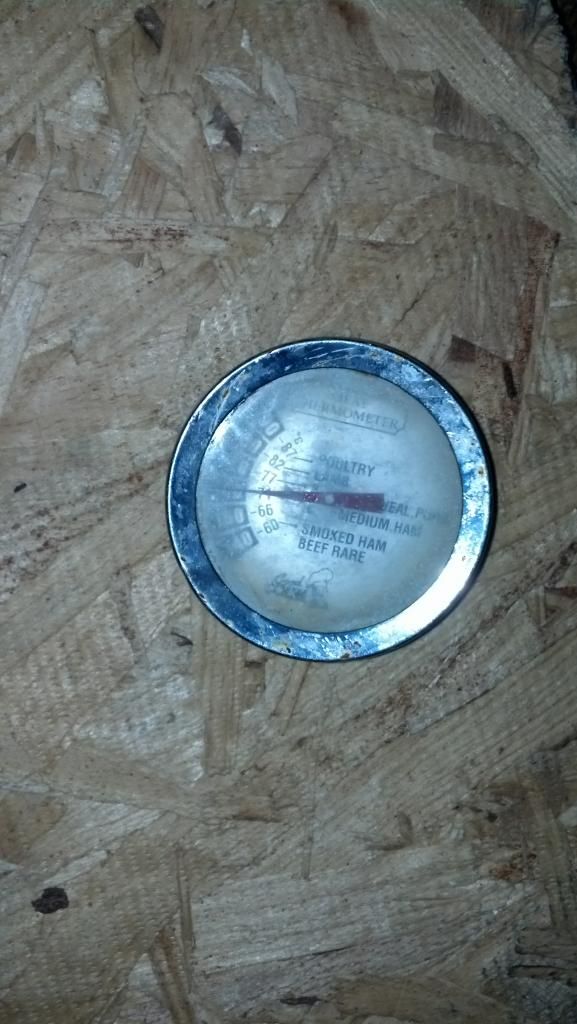 IT IS at this point that the project is to be picked up at a later date... My tip reinforcements are still cooking and I will be able to get back at it tomorrow.
So, all of you experts out there, is the 1/16" difference reasonable at this stage?
I was told, today, that "hardwood doors" are actually pressed wood dust. That would make sense in the texture I'm seeing in the lams and the dust that was flying around giving Bert her inspiration for the name. What's interesting is that if it's just pressed wood dust, it sure does seem to display the same characteristics as regular wood. Hopefully, all signs being positive at this point, that the glass holds it all together.
Until next time...
Jumpster