A friend from Sweden wanted to see a take down longbow build-a-long. So I got off early today, came back to the cave and started to clean it up. I had turned the cave into a huge paint booth, painting about 40 cabinet doors and draw fronts. Guess what? I wanted my saw dust shop back so I started taking it apart. well That quickly ceased to be fun before I got half way through.
So, I have some stuff, and other stuff and some stuff I don't have so it's ll be a longer build than I normally do. so shall we get started?
***Warning Disclaimer***
It's a long post, so go to the bathroom, get a cold beverage, kick back and enjoy
OK, welcome to the

Take Down Longbow Build-a-long
My new friend Martin from Sweden, built a fine Dark Angle recurve, so I decided to do a Take down version of "Trav" for those of you that don't know Trav, he is a short longbow I built, for people to try that might want to get into
Traditional archery and don't want to drop the coin to find out. It's my way of Giving back to the Archery world. My small drop in the bucket if you will.
Ok, first we need some riser wood
Well Looking here, here is a nice new Hunk of Custom Diamond I had made just for longbows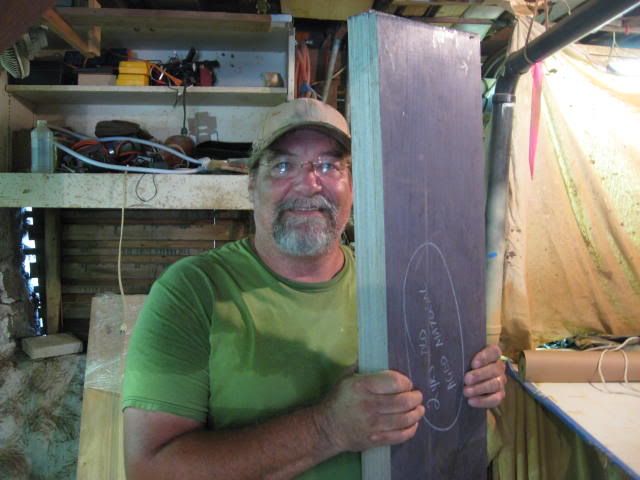 It's a darker black,grey silver and brown wood with a repeating pattern, check it out..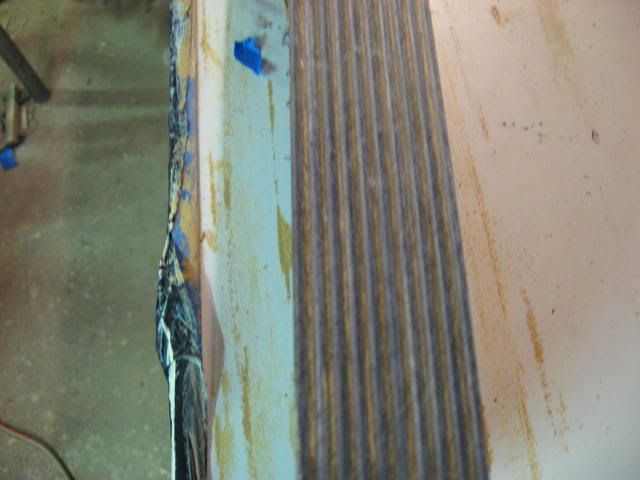 First is a block for the riser, this riser is one I got from a friend of mine in Texas Bob Sarrel, he owns Sarrels archery in Austin Texas, I met him and his son and fabulous family when I was there almost a year ago, he had a longbow design I really like, it just just said.."Ya like me don't ya?". You know those bows when ya see them, trust me. And this was one of them. Bob said I could use his riser design. My limbs , his riser (I suck at designing risers)
That should be just about right, and it's a short riser about 16 inches long, not very long at all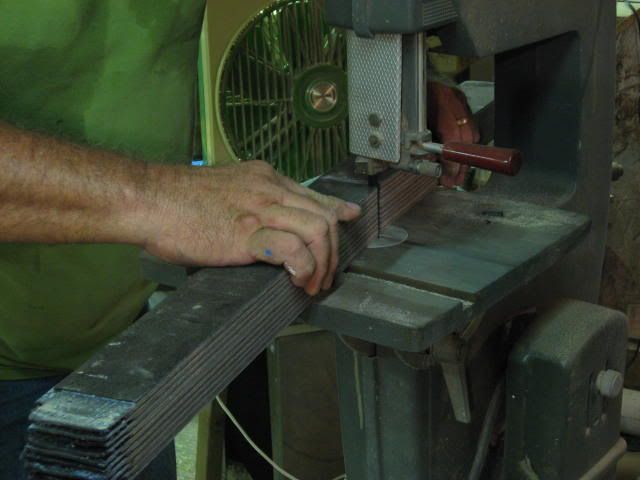 One thing Bob and I seem to agree on, 18 degrees makes a great set of limb pads, so I grabbed my old pattern and draw a couple 18 degree lines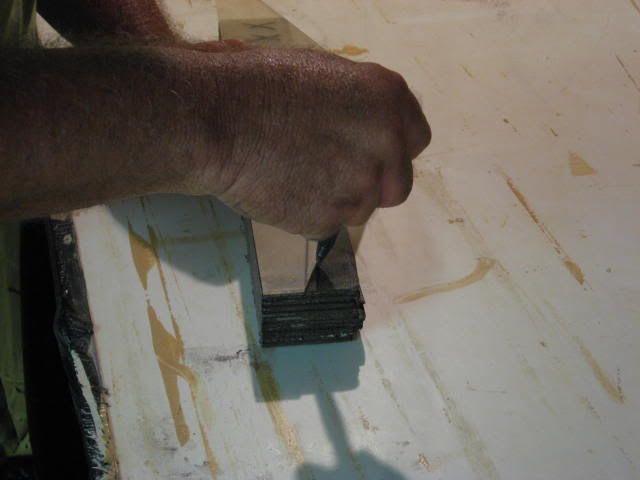 Some guys get all fancy about limb pads, just mark'em , cut'em , stay out side the lines and sand to the line.....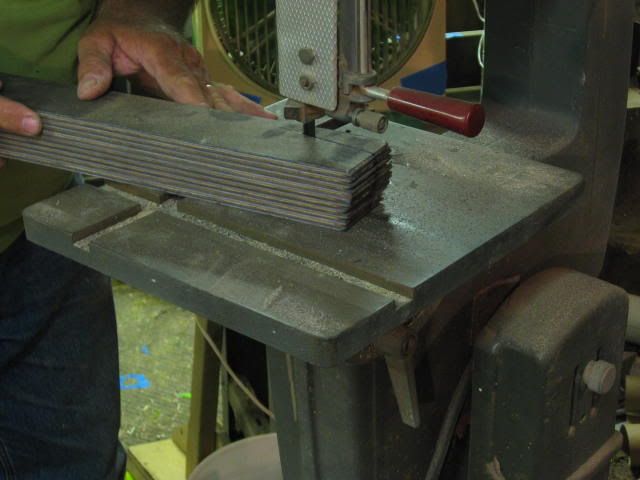 Looks good enough to me, it's amazing to me the older I get the straighter and better my cuts......(thank God for the belt sander)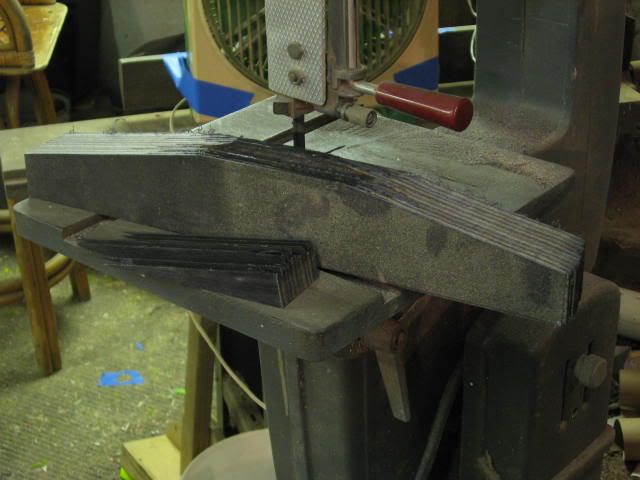 Find the center of the riser and mark it at 16 inches and cut it off........ NOT TO BAD !!!!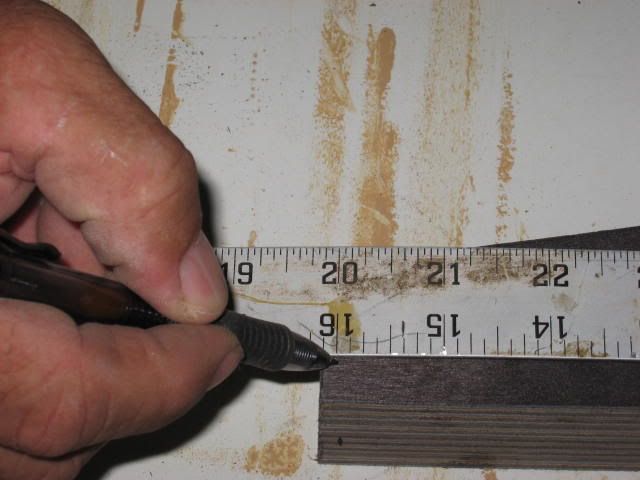 Well, ok, just a touch up on the sander........****Whew****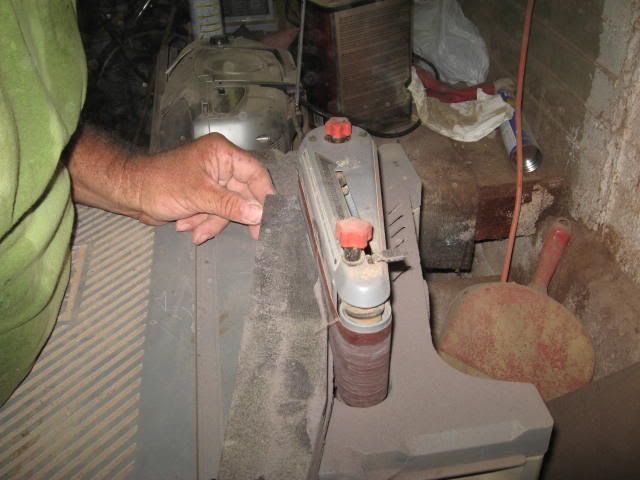 Ok, like I said, this is going to be my limbs on a new riser, so Just for Giggles and Grins, lets check it out to see if they will match?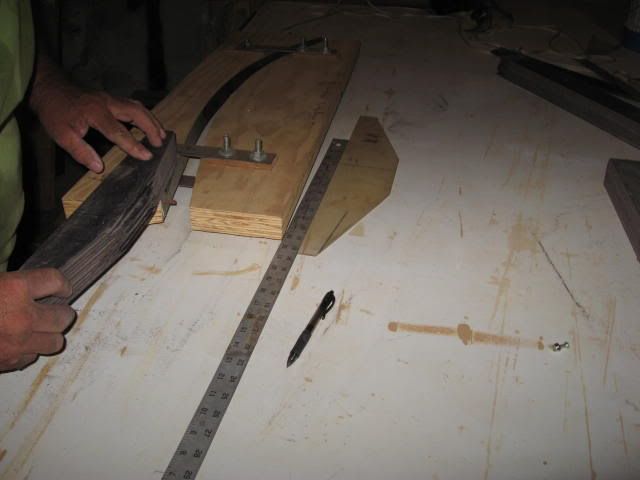 Cool.....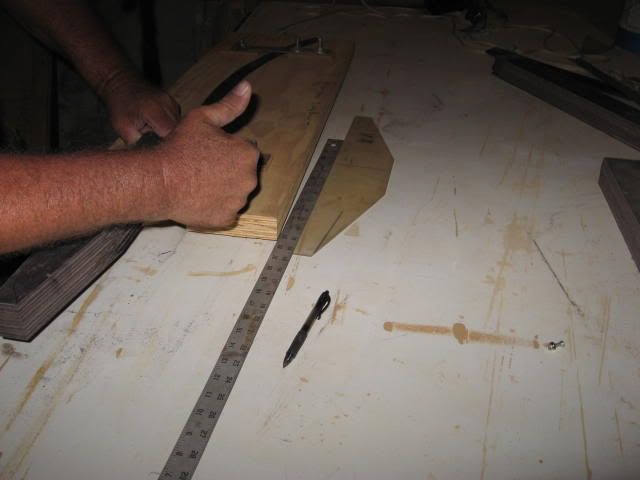 So this is the game plan, bout all we need riser, limb press, ruler, marking pen... guess were good......wait...something else.....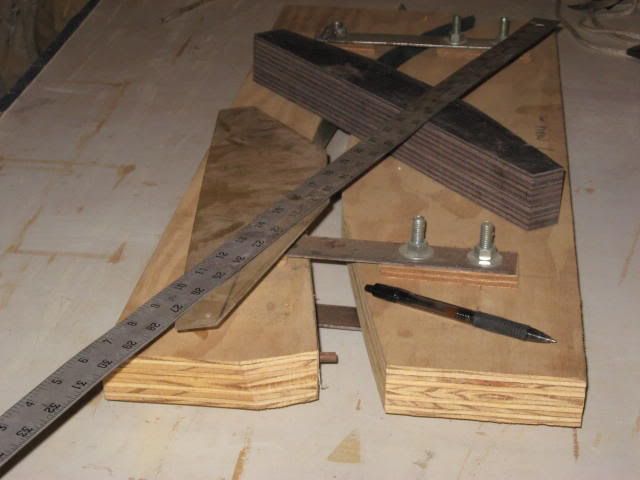 Oh yeah, guess limbs might help huh?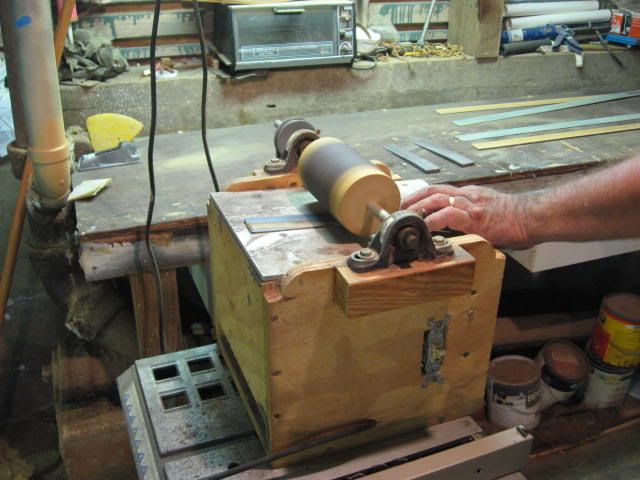 I cut these limb laminations special they are cut sideways to show the grain, because if not they wouldn't show all the colors I wanted, so grind..grind..grind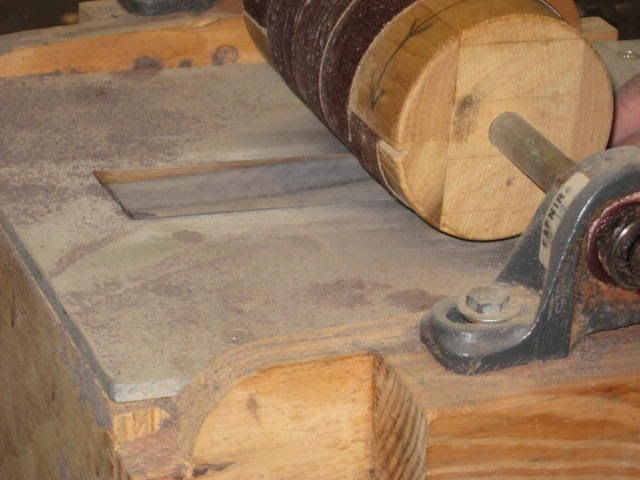 Kinds hard to see the grains, maybe this way will help...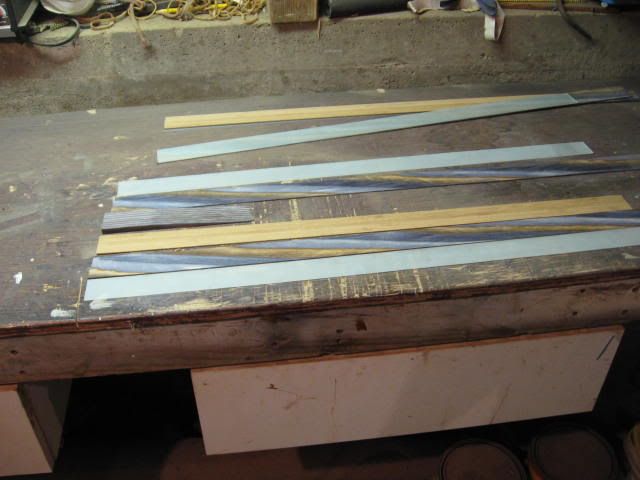 Not really huh? hold on... There ya go, this is much better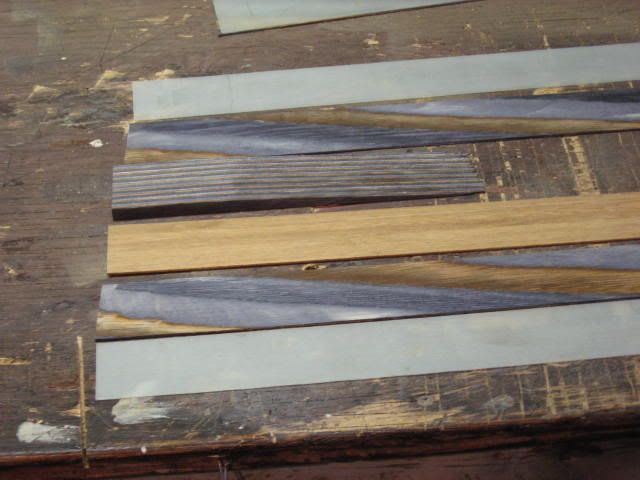 And this is what the stack looks like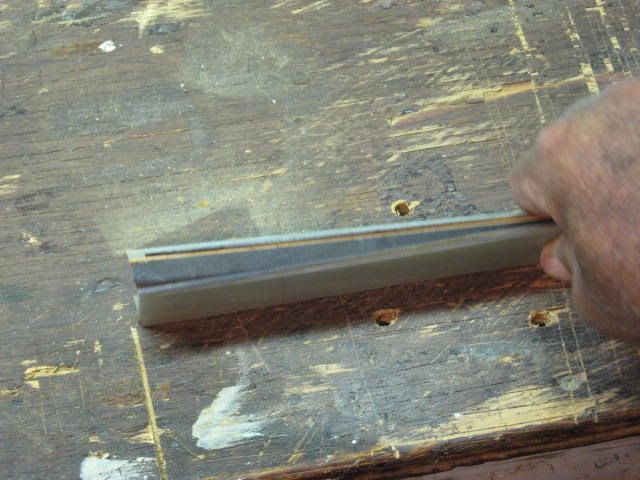 Ok, limb ground, glass cut to length and the press... Only problem is I don[t have any good Smooth On epoxy. I have some but I don't trust it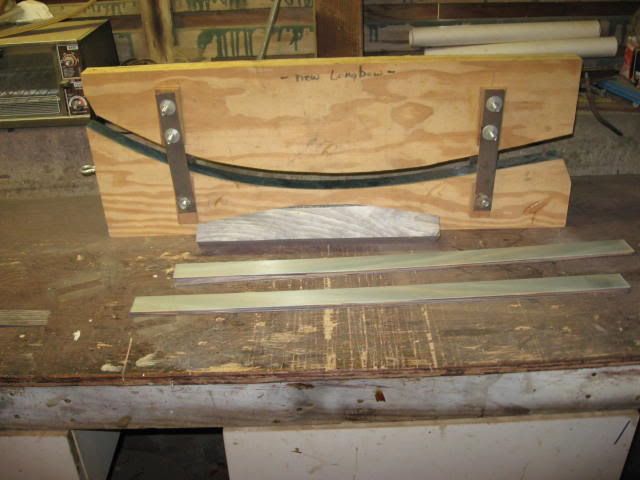 Well, Guess that's about it for today, took a couple hours to get this far so...lets do this one slow, I'll order some Epoxy tomorrow....it's take a couple days to get here, not to worry
I'll think of something, to do while we are waiting.
Ohh, Like before, if I forget to explain something or your wondering why or how I did something.... please ask. Like I said we'll do a extended build on this one start to finish how bout that?
Get your string material ready and your serving, we are going to do a String-a-long too, and beaver balls too. it'll be fun.
Keep checking back, ya never know what I might find do or discover......
Aloha