I picked up a Jukar barreled Tower Pistol that was probably a kit and put together without much thought. Could also be the builder did not read the instructions before starting the kit and zigged before zagging on a couple of steps.
I figured I could do with some woodworking practise and also a few hard knocks in learning how to blacken a barrel since most to the finish was gone from the barrel.
Here is the Tower as I started.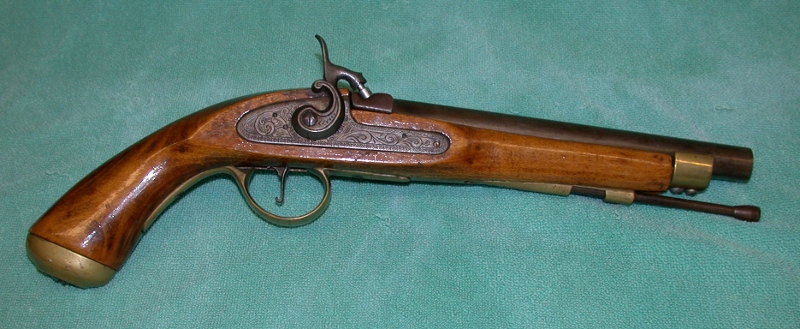 The hardware was not fitted well to the stock.
The barrel and trigger assembly components were all over the place.
The nose cap had been butchered. The barrel had been tapped twice for two machine screws to hold the barrel.
And, it had a poly coat on top of several other coverings.
After a few hours of stripping, shaping and cutting wood and cleaning up the brass I ended up with this.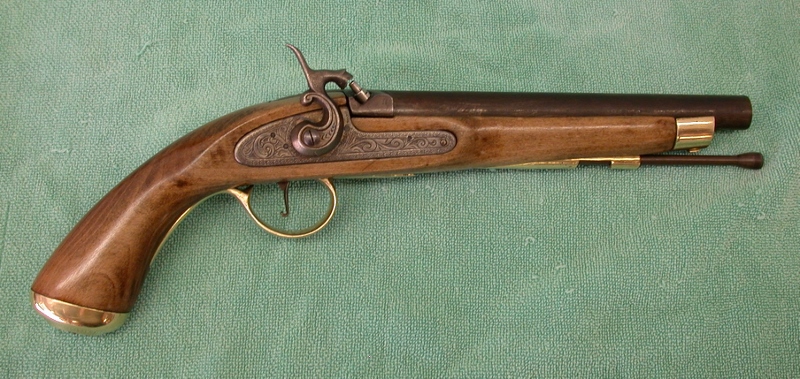 The nose cap is better, though I need to find a cleaner brass screw and the stock pommel is aligned with the stock now.
And the tang is flush with the stock.
I also tried blackening the barrel using bleach and it did what Cap has stated in other posts. I need to work on my technique but I am happy with the results. Cap, have you used vinegar to black metal?
I now have two Tower Pistols, both from kits. One with a plum barrel (hex base) and the other (round the entire length) with a black barrel.
I have a CVA Kentucky Flintlock kit ready to be put together. I would like to do some wood carving on the stock. I welcome any carving themes for the Kentucky Pistol. I may also be in possession of Numrich Hopkins Allen Underhammer rifle kit soon. Any thoughts on working with this kit?
Thanks.