Les suggested I post this. It does contain pictures a butchered hog. but it shows just where and how far forward and low the vitals of a hog are located.
I killed a hog not too long ago, my partner and I were discussing the arrow hit and how we had different opinions of what vital organ it was. So we skinned the animal and opened it up to see.
Here is how a hog normally stands, the leg is bent like this when standing at rest just feeding
I removed the front leg and opened the rib cage to expose where the heart lays, as you can see it's exactly between the front legs and lays directly on the breast bone, a close look shows the lungs are straddle of the heart and kinda small in relation to the body.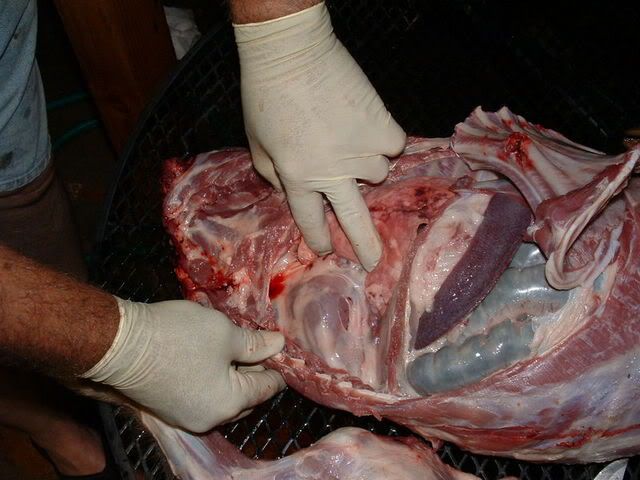 I'll put the leg back on so you can get the picture, I'll raise the leg slightly forward for you to see the heart better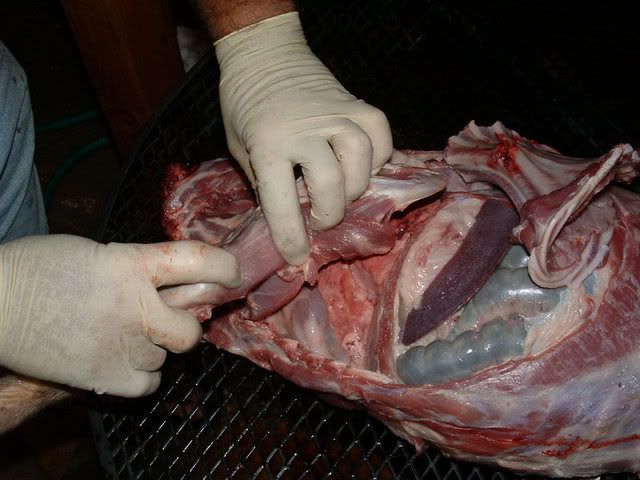 If you were to take a "deer shot" on a hog (somewhere close to where my finger is pointing) you might catch the back of the lungs or have the arrow go between the lungs and the liver. the liver is quite small on a hog it's the same liver shape just smaller and laying flat against the diaphram...... not the lungs. And a small no mans land is created by this location of the liver, the back of the lungs at best, and that isn't a killing shot.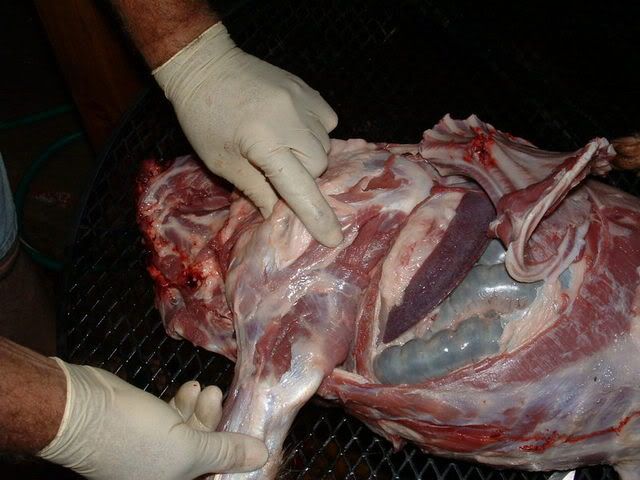 Here is the whole chest cavity exposed as you can see there is a lot of room above the lungs(another no mans land) pending the size of the hog the size of a tennis ball or on a large hog the size of a soft ball.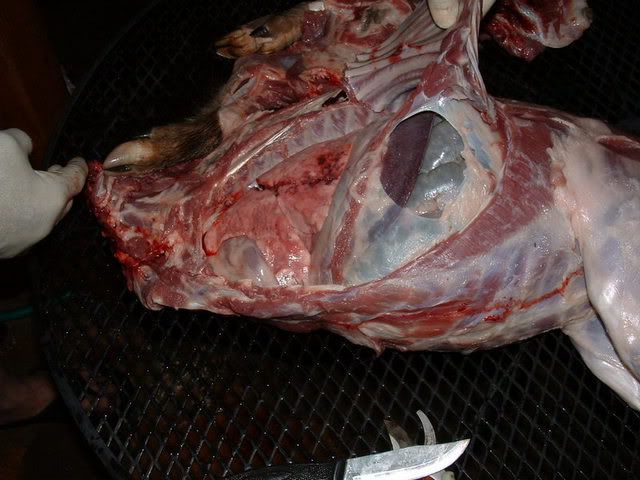 The lower location of the vital areas on a Hog has earned them the nick name "little tanks" in reality nothing vital is/was hit to kill them. But,they are tough little critters. But they do die within 20 yards when you destroy the lungs or heart.
The best shot is, shoot them in the arm pit, slightly quartering away and no more than 1/3 up from the bottom. It's real hard to shoot too low on a hog. "Too low" is a total miss.
I hope these pictures help. (shoot the bald spot when the hog steps and stands with the leg forward, it's the armpit)